I've just returned from my annual pilgrimage to northern New Hampshire to fish with my friend John. Driving up on Wednesday I found John at the camp and we walked in on the FFO section of the Androscoggin River in Errol and fished. Quite honestly the fishing was atrocious, there was no insect activity, no fish were showing and I managed a couple of small salmon and a 8" brook trout.
Thursday we met our
guide Ken in Colebrook, NH
by mid morning and he took us on a 12 mile drift down the Connecticut River. Neither John nor I had much experience on the Connecticut and I was surprised to find that the river is mostly slow water fishing. There were some fish showing at the put in and we managed a couple of small rainbows on caddis emergers. As we headed down the river the weather kept changing from hot and humid to cold and rain and back again. It seemed like as soon as we were too hot and took off the rain jackets it'd cool off start to rain again. The weather was keeping the fish down. Ken worked his tail off changing out our flies and working the boat but the fish just weren't cooperating. About 6PM it started to rain quite hard and Ken switched me up to a small streamer and I had some fast action as long as the rain was heavy but didn't catch any large fish. Despite the unfavorable fishing the trip was enjoyable and I learned a good deal about the river.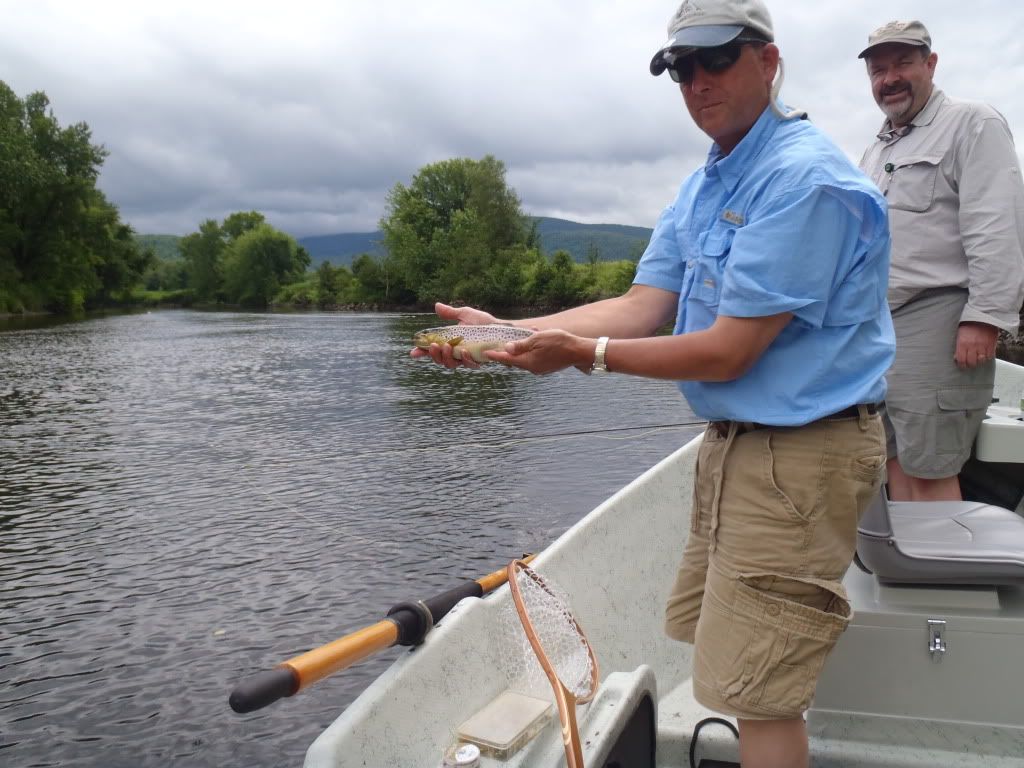 Ken shows off a small trout
Wednesday evening John and I fished the Magalloway river just below the dam on Aziscohos Lake. The river there drops 250 feet in 2 miles and it's quite steep so fishing it required a bit of scampering about the rocks and boulders along the shoreline. There were mayflies, caddies, and stoneflies hatching in great numbers and John seemed to do well with an elk hair caddies but I didn't hook up at all. Still it was a great night to be out and fishing in such a beautiful location.

John mid river